Vikki Petraitis
2023 Inductee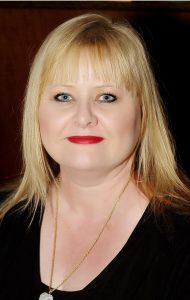 Vikki graduated from Kilbreda College in 1983. She went on to complete a Diploma of Teaching, Primary (Australian Catholic University), a Graduate Diploma of Computer Education and a Master of Information Technology Education, both at the University of Melbourne and is currently completing a PhD in Creative Writing at La Trobe University.

Vikki began her professional writing career in the early 1990s, an interest that was fostered at Kilbreda. She flourished in the all-girl environment under the strong leadership of Sister Angela Ryan csb OAM, one of the many strong women at Kilbreda who helped shape her feminist growth. Recognising the pebble-in-the-pond effect of violent crimes, Vikki is a trusted advocate for the primary victims and also the survivors, those whose lives have been devastated by the ripples – the families, friends, communities and investigative authorities.

For 31 years, Vikki worked full-time as a teacher whilst writing her 18 books along the way. Having now retired from teaching, Vikki devotes her time to her writing, studying and producing podcasts. She has made several internationally successful podcast series with 'Casefile', one of the world's most popular true crime podcasts.

Vikki is also a popular public speaker and uses her voice for advocacy. Through her forensic investigations and her compelling narratives, Vikki has given a voice to the voiceless, the victims and survivors of unimaginable crimes. She gives them a gentle forum in which to tell their story and helps them use writing as a form of recovery and healing. An example of Vikki's advocacy is evident in the collaboration with members of the community including David Limbrick MP, fighting to keep serial killer, Paul Denyer in prison after his parole bid.

In 2022, Vikki won the 2022 Inaugural Allen & Unwin Crime Fiction Prize with her PhD novel, 'The Unbelieved'. In this book, her first foray into fiction, Vikki tackled broader social issues of sexual assault and family violence.

Vikki is generous with her time and talents, nurturing new writers, assisting them to find their voice and hone their craft. She has led 'Masterclass' writing workshops for the students at Kilbreda and delivered an inspirational keynote speech at the 2021 Academic Achievement Awards.