College Awards
Each year, as a college community we recognise and celebrate students who are recipients of college awards across a broad range of areas including community awards. We congratulate the following award recipients for 2021/2022.
Shane Cormick Award
This award is presented in memory of past staff member Shane Cormick. This Award recognises a Year 7 student who shows empathy for others, demonstrates Strength and Kindliness, maintains a strong sense of justice, is gentle and compassionate to others and demonstrates initiative and perseverance.
2021 Recipient: Indira Alappatt
Doctor Bridie Kean Award
This award is presented in recognition of past pupil Bridie Kean (Class of 2004) who despite facing adversity has shown great determination and courage throughout her life. This Award recognises a Year 8 student who looks for the positives in all situations, strives to achieve her goals and shows compassion and generosity to all.
2021 Recipient: Brigid Koczek
Emma Kelly Award
This award is presented in memory of past pupil Emma Kelly. This award recognises a Year 9 student who is an extraordinary and courageous individual in our community. She has overcome adversity and has continued to give back to the community.
2021 Recipient: Chloe Davis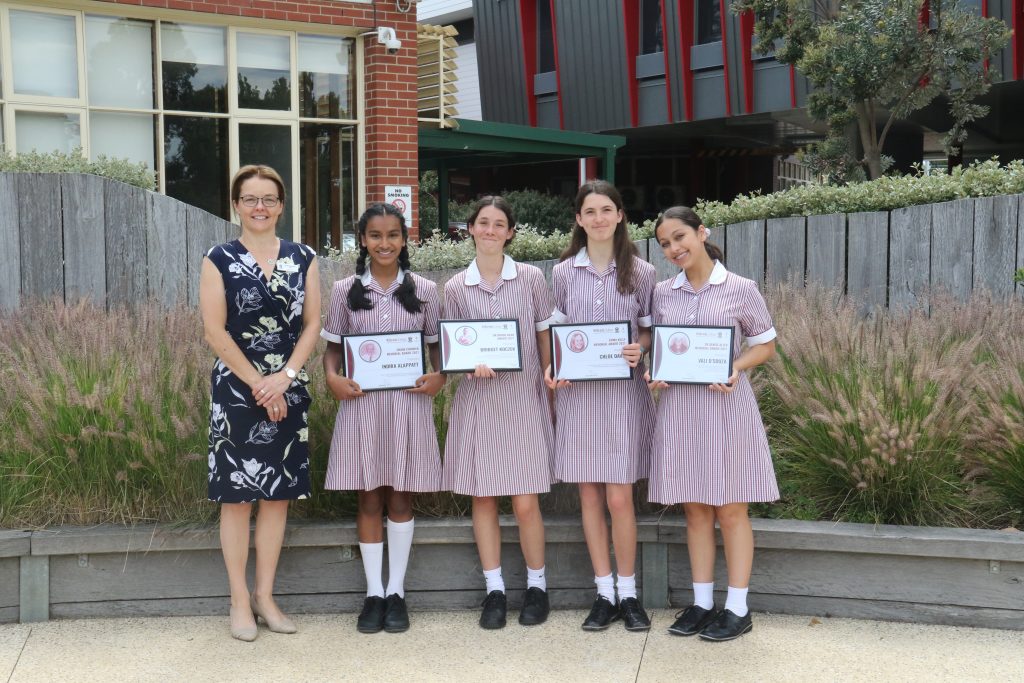 Sister Denise Allen Award
This award is presented in memory of past pupil and teacher Sister Denise Allen csb who epitomised the motto of Strength and Kindliness. This Award is presented to a student who, like Sr Denise, shows Strength and Kindliness, welcomes all with affirmation and personal interest and shows care to others in the community, all with a sense of humour and a big smile!
2021 Recipient: Vali D'Souza
Susan Claire Duke Award
This award is presented in memory of past pupil Susan Duke (née Morgan – Class of 1995). This Award recognises a Year 11 student, who, like Susan, is a person with a strong sense of self. She is intelligent, self-directed, makes the most of opportunities and willingly engages with life.
2021 Recipient: Sian Napier
Sister Mary Dalton Award
Sr Mary Dalton csb was Principal of Kilbreda from 1985 until the time of her death in 1995. This award is presented in her memory to recognise a student who shows excellence in a particular field, has a very positive attitude and constantly strives for achieving her personal best and has a commitment to service within the College and the wider community.
2022 Recipient: Francesca Malignaggi
Mother Margaret Mary Bourke Memorial Award
Mother Margaret Mary Bourke was Principal of Kilbreda College from 1927 to 1965. This award is presented in her memory to a student who has participated in a wide range of activities, achieved excellent results in her academic endeavours and involved herself in community service activities.
2022 Recipient: Alice Merchant
Michelle Bassett Memorial Award
Michelle was born with a serious heart diseases, however overcame many difficulties to complete a very special and memorable time at Kilbreda. Maureen and John Bassett, Michelle's parents, decided to donate this Award in Michelle's memory to recognise a Year 12 student(s) with a determination to succeed and not be conquered by difficulties along the way.
2022 Recipient: Katrien Girvan
Catherine Arlove Award
This award is presented in recognition of Catherine Arlove, a Victorian Triple Olympian who completed her studies at the College in 1988. The recipient is a Year 12 student who has represented the College in the greatest number of sporting activities over her time at the College.
2022 Recipient: Alexia Ritzert
Caltex Best All-Rounder Award
This award recognises a student who has demonstrated excellence in the following key characteristics: Academic, Attitude, Personal Conduct, Leadership, Service, Sporting and the Arts.
2022 Recipient: Alexia Ritzert
We also celebrate a number of Academic Achievements with awards, which can be found HERE.