In 1904, the Brigidine sisters purchased Kilbreda's iconic landmark building, which began its life as the Mentone Coffee Palace, with the vision of establishing a new Brigidine community and Catholic school.
The College opened on the 8 August 1904 with just three students and since then many thousands of young women have been blessed with a Catholic education in the Brigidine tradition. We are committed to providing well-maintained and contemporary facilities to support and enhance the learning experience of our students now and into the future.
Auditorium Seat Sponsorship
The addition of a contemporary 400 seat auditorium has greatly enhanced our facilities and we are grateful for the generosity of all parents, past pupils, staff, students and friends of Kilbreda College who supported its development by sponsoring a seat/s in the Auditorium.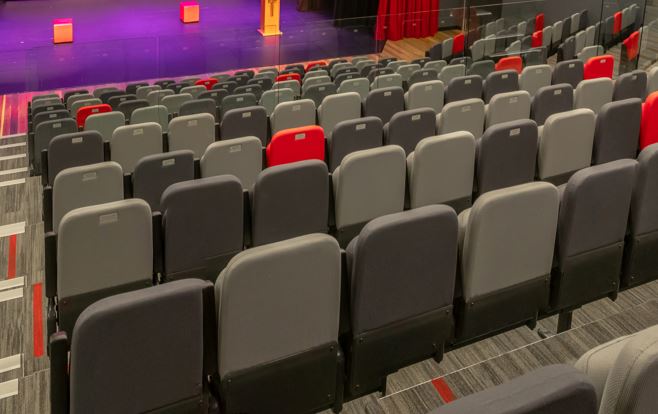 Sponsor a Seat Today
You can honour a special person or acknowledge a business or club through an inscription on a brass plaque that will affix to a seat in our Auditorium.
By sponsoring a seat, you are not only helping to raise funds that will assist in enhancing the College facilities; your plaque will be seen by many people over many years, a fond memory that is shared time and time again.
Premium Sponsors
| | | | | |
| --- | --- | --- | --- | --- |
| Christy Ditchburn | Nevenka Bakin | Lucy Condon | Marguerite Buckley | Grace Coelho |
| Samantha Dix | Shevahn Hymers | Rob Jones | Jennifer Keely | Judith Kinnear |
| Denise Leonard | Paul Johnston | Victorian Lim | Tobias Loft | Simon Mansell |
| Stuart Clark | Wain Family | Jennifer Williams | Adrian Seymour | Helen Wilson |
| Sean Nugara | Chelsea Willis | Peta Wragg | John O'Donoghue | Kristy Oliver |
| Mayumi Purvis | Marcella Reiter | Veronica Parsons | Lisa Schreurs | Peter Wain |
| Brett Selacki | Nicole Mangelsdorf | Teresa Lincoln | | |