Sister Angela Ryan csb OAM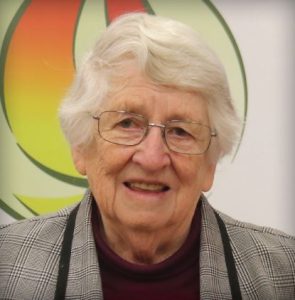 2023 Inductee
Sister Angela is a Brigidine Sister in the Victorian community committed to the education of girls and Catholic education. She holds a Bachelor of Arts, Bachelor of Science, Diploma of Education and honorary Doctorate. Angela has held the positions of teacher and Principal in Brigidine schools in Victoria and New South Wales, twice holding the position of Principal of Kilbreda College (1981-1983,1996-1999), her alma mater.

Angela has been the leader of the Victorian Province and has also been on the Congregational Leadership Team. She was President of Congregational Leaders in Victoria and Australia an has undertaken financial leadership roles for the Brigidine Sisters locally and internationally. Angela has worked with the Catholic Education Office in industrial relations and planning and held the positions of Director of Catholic Church Insurance, Trustee Director of Catholic Super and Trustee Director of the National Catholic Superannuation Fund.

As Executive Officer of the National Committee for Professional Standards from 2000 to 2012, Angela was at the forefront of the Church's dealings with, and response to, issues of abuse within the Australian Church. The committee was established to oversee the development of policies, principles and procedures in responding to Church-related abuse complaints. The committee's purpose was to ensure pastoral care for victims and survivors of sexual and physical abuse by church personnel, and Towards Healing, the pastoral response of the Church was established.

In an interview about her involvement with the Committee and Towards Healing, Angela described it as "a way of helping victims move from being victims to survivors…" and said… "that's always been my hope that anything I have had to do with people who are victims that I have just been able to help them one little step to move towards healing."

Angela was recognised for her contribution to Catholic mission through education, governance and leadership with an Honorary Doctorate from ACU in 2009 and in 2012 she received a Papal award. Both of these awards were for the work with victims of child abuse. Angela continues her work as a consultant for victims of sexual abuse in the Church.

Currently, Angela is a member of the Kildare Education Ministries (KEM) Finance and Audit Committee. She was a founding Director of the KEM Board and finished up at the end of 2022 after a tenure of over nine years.

In the Queen's Birthday 2022 Honours List, Sister Angela Ryan csb was awarded a Medal of vthe Order of Australia (OAM) for her 'service to the Catholic Church of Australia'.