Nola Barber OBE
2021 Inductee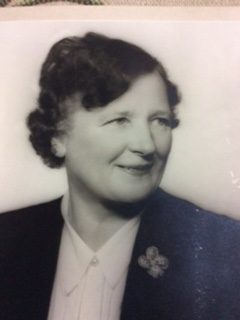 In 1901, Nola was born at Woodend and by 1918 she had completed her secondary education at Kilbreda. Following this she attended Emily McPherson College and the University of Melbourne, becoming a teacher until 1940 when she married David Raeburn Barber, settling in Aspendale where they had three children.

In 1948 she was appointed a Justice of the Peace. From that time until 1957 (and from 1960 to 1975), Nola was a local councillor and became the first female Mayor of Chelsea City Council in 1962. During her time on council, Nola advocated for a trained social worker for the area, was instrumental in establishing a home-help scheme, 'Meals on Wheels', the Nola Barber Kindergarten, a municipal library, a sewerage authority and a spastic centre (now known as 'Scope' at Aspendale).

Nola co-founded the Australian Local Government Women's Association in 1951 and was made a life member. As a member of the Australian Labor Party, she travelled to China and Japan as a delegate in 1958. She contested the federal seat of Flinders and the state seat of Mentone without success.

Nola was active in the Aspendale Elderly Citizens Club, and numerous Chelsea organisations including the Citizens Advice Bureau, Community Health Centre, Historical Society, the Girl Guides' Association, Benevolent Society, Australian Red Cross Society and the Victorian Baby Health Centres Association. In 1963, she attended the National Education Congress in which she advocated for increased federal funding for schools. In 1963, she was awarded the 'Royal Life Saving Association Badge', a Rotary Club of Aspendale community service award in recognition of her efforts in teaching children to swim. Nola's extensive commitments extended to membership of the United Nations Association of Australia (Victorian division), the Union of Australian Women, and the Aborigines Advancement League (Victoria), and in 1965 she founded the anti-conscription organisation, 'Save our Sons'. Nola was also President of the Aspendale Elderly Citizens' Club from 1966.

Further awards and recognition were to follow and it was in 1970 that Nola was awarded an Order of the British Empire (OBE) for her services to the community. She also went on to receive the inaugural award of the Victorian 'Senior Citizen of the Year' from The Council of the Ageing in 1983.

In 1985, Nola died in Colac. Later, in 2001 she was honoured with inclusion on the 'Centenary of Federation Victorian Honour Roll of Women'. According to the 'Australian Dictionary of Biography', Nola "sought peaceful solutions to conflict and fought strongly for human dignity and justice. Maintaining a positive outlook, she preferred to see the good in people".