Margaret (Maggie) Fitzgibbon OAM
2019 Inductee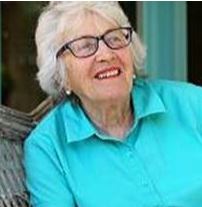 Maggie Fitzgibbon has enjoyed a remarkable career as a singer and performer with much of her success occurring in the United Kingdom, where the list of people she worked with reads like a 'Who's Who' of the period. The names include Noel Coward, Danny La Rue, Benny Hill, Morecombe and Wise, Ronnie Corbett, Tony Hancock, Max Bygraves, Jule Styne, Richard Rodgers and Stephen Sondheim.
Maggie was born in 1929 into a family of performers. She attended Kilbreda in the late 30s and early 40s, while her brother Graeme, known as 'Smacka', attended St Bede's College, Mentone. Whilst at Kilbreda, Maggie took part in any sort of performance that she could. On leaving, Maggie, who had trained as an operatic soprano under Signor Rebattaro, performed on the Tivoli Circuit from 1946, followed by experience on Sydney radio with Jack Davey.
After finding fame in J. C. Williamson's production of 'Kiss Me Kate' in 1952, the first JC Williamson musical theatre show produced in Melbourne, she headed for London. Here she became a regular in pantomimes, performed in cabaret, played the female lead in a TV series, 'The Newcomers' and appeared in the first Australian Independent film directed by Bruce Beresford, 'Sunstruck', where she stared opposite Harry Secombe. Maggie also appeared in many command performances and hosted her own show, 'Maggie's Place'. Here, she took the opportunity to promote Australian talent such as 'The Seekers'.
In 1978, Maggie returned to Australia and purchased a property in North East Victoria. She became involved in her local community. She found the plight of homeless and jobless young people a particular challenge that she wanted to solve. "I couldn't go to sleep at night, knowing that kids were without a place to sleep", she said recently. Maggie provided a cottage on her property for them to undergo rehabilitation during which time they were invited to dine with her at her homestead.
Maggie also served on the local council, was the first female President of a branch of the Farmer's Federation and Secretary of 'Save the Children' Foundation. In 2002, she was awarded an OAM for services to the community. Coincidently, her long-time friend and former Kilbreda classmate Joyce McGrath, was a recipient at the same ceremony.
This year, Maggie turned 91 on 29 January and celebrated with residents at her nursing home in Corowa NSW. It was with great sadness that we learned of her recent passing on 8 June 2020.