Doctor Bridie Kean
2019 Inductee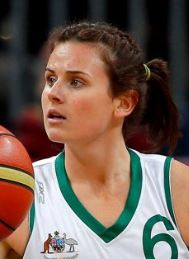 Bridie contracted Meningococcal Septicaemia at the age of two and her feet were amputated as a result of numerous orthopaedic surgeries. Being unable to participate in sport caused her great frustration. In her second year at Kilbreda, Bridie attended the 2000 Paralympic Games as a spectator and was exposed to the game she loved, basketball, being played within a wheelchair. This was a life changing moment for Bridie. In her response Bridie stated, "Discovering wheelchair basketball not only introduced me to a sport, but to role models who made me realise that as people with disabilities we are just as capable of training hard and working toward our sporting goals as everyone else".
Bridie took up wheelchair basketball in 2000 and was a member of the Paralympic Bronze Medal Team at Beijing. By 2012, she was captain of the Australian Paralympic Women's Basketball team in London where they won a silver medal. She competed in the World Championship in 2014 and was training for the Rio 2016 Paralympic Games until the end of 2015 which unfortunately the team failed to qualify for. Bridie then took up canoeing and won gold in the Para Mixed V12 500m and the Para Mixed V6 1000m finals at the 2016 Va'a Federation World Elite and Club Sprint Championships.
Bridie has gone on to achieve a Bachelor of Science from the University of Illinois, a Master in Public Health from the University of Queensland and in 2018 was awarded a PhD from the University of Sunshine Coast. Whilst at Illinois, Bridie had the opportunity to pursue both her sporting goals and education within a program that enabled students to strive in both pursuits at the same time. Undertaking her PhD at the University of the Sunshine Coast she was able to balance training for the Australian Wheelchair Basketball Team with her PhD research. Her PhD is titled 'Environmental Factors Influencing Para Student-Athletes'.
Bridie has managed the University of the Sunshine Coast Sports Elite and Education Dual Stream (USC SEEDS) program, Australia's first university program to intentionally support athletes with a disability to pursue sport and tertiary education. Bridie's work at the university focusses on the health benefits of sport for people with a disability. Bridie is also the President of the Suncoast Spinners, a group that is implementing an Inclusive Schools project which will focus on embedding wheelchair basketball into the Physical Education curriculum.
An award in Bridie's honour is presented to a Year 8 student at Kilbreda each year who demonstrates compassion and bravery.