Queen's Birthday 2022 Honours List
We congratulate and are honoured to present the following remarkable members of our College community who have been named in the 2022 Queen's Birthday Honours List:
Sister Angela Ryan csb OAM
Past pupil (Class of 1955), Past Principal (1981 to 1983 and 1996 to 1999). Member of the Kilbreda College Stewardship Council and Kildare Education Ministries Board.
Sister Angela was awarded a Medal of the Order of Australia (OAM) for service to the Catholic Church of Australia.
2017 Past Pupil of Distinction nominee, Sister Angela Ryan is committed to the education of girls and Catholic education. She was President of Congregational Leaders in Victoria and Australia and has undertaken financial leadership roles for the Brigidine Sisters. She has worked with the Melbourne Archdiocese Catholic Schools (MACS) in industrial relations and planning and held the positions of Director of Catholic Church Insurance, Trustee Director of Catholic Super and Trustee Director of the National Catholic Superannuation Fund.
As Executive Officer of the National Committee for Professional Standards from 2000 to 2012, Angela was at the forefront of the Church's dealings with, and response to, issues of abuse within the Australian Church. Angela was recognised for her contribution to Catholic mission through education, governance and leadership with an Honorary Doctorate from ACU in 2009 and in 2012 she received a Papal award. Both awards were for the work with victims of child abuse.
Sister Angela has forged a path that our College community strives to follow. Like her we will continue to take action and make a difference. We will be courageous and speak and act with integrity.
Rear Admiral John (Jack) Rush RFD QC AO
Past pupil (1956 to 1958). Queen's Counsel and Judge Advocate General of the Australian Defence Force.
Jack was made an Officer of the Order of Australia (AO) for distinguished service to the law, notably as an Australian Defence Force senior legal officer, and to the community of Victoria'
Jack Rush attended Kilbreda College in the years where it was a co-educational school from 1956 to 1958. Jack's mother, Geraldine Rush (née Cotter) was also a past pupil and president of the Past Pupil's Committee.
Upon graduating in Law from Monash University B.Juris, LLB, Jack has practised as a barrister in major litigation in all areas of law in jurisdictions throughout the country. He is a Queen's Counsel, a former Chairman of the Victorian Bar Council and from 2013 to 2015 served as a Supreme Court Judge returning to the Bar on 1 February 2016. Jack has also served in the Royal Australian Navy Reserve for over 30 years. He is currently Deputy Judge Advocate General – Navy.

In 2017, Jack served in his role as Senior Counsel assisting the Victorian Bushfires Royal Commission. A personally challenging role and one where he witnessed many accounts of loss and bravery. He reflected, "It had a big impact and, you know, I can speak for counsel assisting, all of us were impacted. I'm sure it motivated us as well to try to do the very best we could. I don't want to make heroes out of us. It was a job and we did it." 1 A few years after Black Saturday, Jack was appointed by the Victorian Government to conduct a review of Victoria Police senior command.
As a passion project, Jack, as a diehard St Kilda Football Club fan, is a Board Member at his much-loved club. Prior to joining their Board, he was Chair of the AFL Grievance Tribunal and provided legal advice to the AFL on a range of football matters.
Sister Brigid Arthur csb AO
Co-Founder and Project Coordinator of the Brigidine Asylum Seekers Project (BASP).
Sister Brigid was made an Officer of the Order of Australia (AO) for distinguished service to social welfare, particularly asylum seekers and refugees, and to Catholic education.
Sister Brigid has assisted thousands of asylum seekers through her work at BASP over the past 20 years. Established in 2001, BASP aims to ensure that 'every person, irrespective of age, race, gender or religion has the right to live safely, free from persecution'. In practical terms, BASP offers a multitude of support services though assisting with training and employment, counselling, provision of food and accommodation and so much more.
Sister Brigid is an incredible example of someone that truly lives out our College motto of 'Strength and Kindliness', not only day-to-day at BASP but through her selfless work as a Litigation Guardian, helping to represent vulnerable individuals in need.
BASP's motto is "I was a stranger, and you made me welcome" with Sister Brigid recently explaining it as "We believe that if you're going to really be Christian, then you must be kind to the outsiders and the vulnerable people."2 Under the 'Living Justice Living Peace Charter', which guides our way of life at the College, we are so blessed to collaborate with BASP on a number of projects including our VCAL Tote Project and other fundraising initiatives.
We continue to be inspired by Sister Brigid who often comes to the College to present to our students. We follow in her footsteps as we continuously seek justice and make the needs of the vulnerable paramount.  
Doctor Natalie Hood ESM
Past pupil (Class of 1983) and Paediatric Emergency Physician and member of the National Medical Advisory Group for Surf Life Saving Australia

Awarded an Emergency Services Medal (ESM) for outstanding service in Surf Life Saving.
From the young age of 10 Natalie was involved in lifesaving at the Mentone Royal Lifesaving Club. Following her time there, at 19 she joined  the Portsea Surf Lifesaving Club and worked as a professional lifeguard during her years undertaking a Medical Degree at University. She had achieved so much already with her work and studies, however it was her love of water that saw her move into kayaking, becoming an elite athlete who would go on to compete in the World Championships team. Later she went on to compete in the Atlanta Olympics in 1996 with the Australian Sprint Kayak team, where she completed the Women's K-4 Canoe Sprint. Natalie was Kilbreda's first Olympian! Natalie reflects on balancing the work of Doctor and training as "Thankfully I'd finished medicine by the time I became an elite athlete… I graduated from medicine in 1990 and it was a bit of a juggle for the first few years." 3
After her continuous years of service to lifesaving, in 1989 Natalie became the first female and Victorian to win the Australian Surf Life Saver of the Year. Natalie's well-deserved Emergency Services Medal focuses on the time she has dedicated to lifesaving – a remarkable 39 years of voluntary service to the Victorian community. She is a ground breaker and 'was part of the first cohort of women to become operational surf lifesavers and was the first woman to be promoted to the rank of 'Chief Lifeguard'. She remains an icon for female leadership within the surf lifesaving movement, across Victoria, Australia and abroad.
As Surf Life Saving Australia's Medical Officer and representative on the Australian Resuscitation Council, she oversaw and led the implementation of revolutionary advances in resuscitation and first aid, including the use of defibrillators in surf lifesaving and sharing modern resuscitation techniques with tens of thousands of surf lifesavers. She currently still serves SLSA as a member of the national medical advisory group'. 4
Natalie's contributions to first aid and resuscitation has saved hundreds of lives on beaches around Australia and the work she has done in her medical profession is outstanding, many are so grateful. She truly lives out our College values, Wonder, Hope and Courage and is a role-model for many that will follow in her footsteps.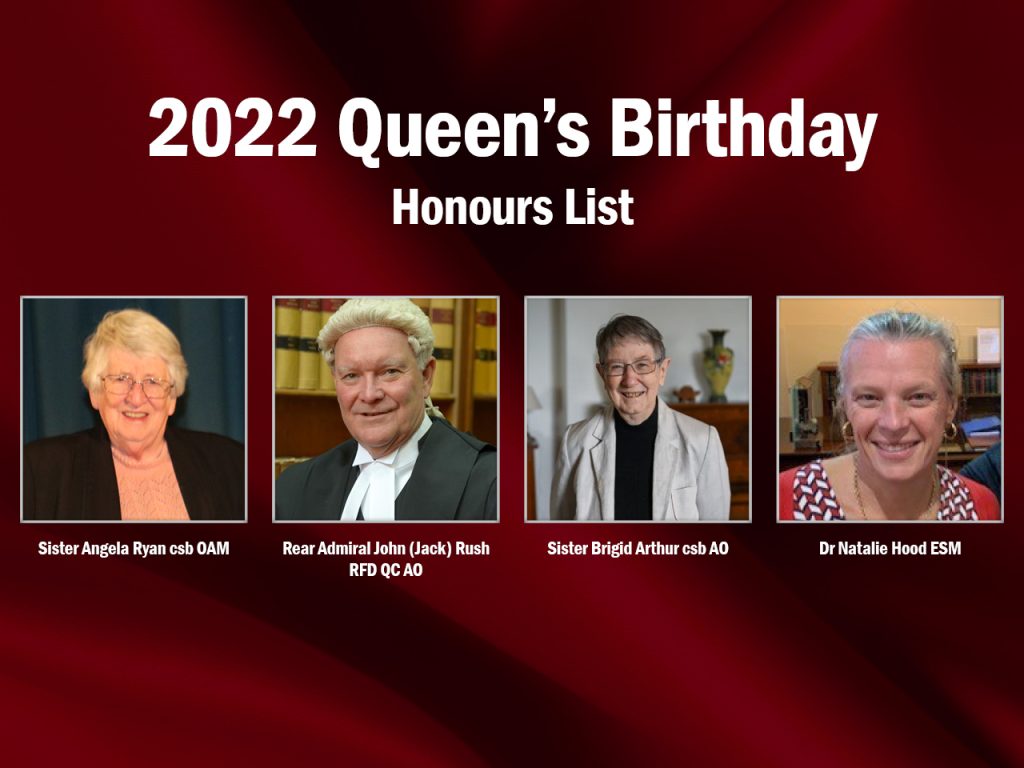 1: abc.net.au – https://www.abc.net.au/news/2017-02-09/life-after-black-saturday-royal-commission-lawyer-jack-rush/8246682
2: theage.com.au- https://www.theage.com.au/national/victoria/welcome-strangers-queen-s-birthday-honour-for-asylum-seeker-advocate-20220609-p5asdw.html
3: sls.com.au – https://sls.com.au/surf-studio-dr-natalie-hood/
4: gg.gov.au – https://www.gg.gov.au/sites/default/files/2022-06/20220612_Meritorious%20media%20notes.pdf