Tanya has spent 17 years in Catholic education and has a passion for girl's education. She has held various leadership positions including Head of Faculty, Head of House and Director: College Operations.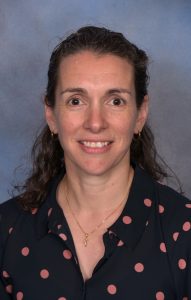 Tanya's passion for working with staff developed in her role as Director: College Operations where she worked in several portfolios across the school including Timetabling, VIT Mentoring, Data Analysis and Literacy and the LitSTEM Primary School Collective.
As Assistant Principal: Staff, Tanya works to provide a culture of continuous improvement in learning through professional practices to ensure the best outcome for students in their learning. 
Tanya has recently completed the Certificate in School Management and Leadership a joint venture between the Harvard Graduate School of Education (HGSE) and Harvard Business School (HBS). This has enhanced her expertise in managing teams and organisations, along with frameworks, skills and knowledge to effectively lead and drive change improvement at Kilbreda.
Her recent completion of the Highly Accomplished and Lead Teacher (HALT) Assessor training, has provided further insight into what makes a great teacher, which underpins her work with staff in professional learning and working toward improved pedagogical practice.