Throughout its rich 116-year history, Kilbreda has been blessed with quality leaders, beacons of light who through their actions have inspired others to dream more, learn more, do more and become more.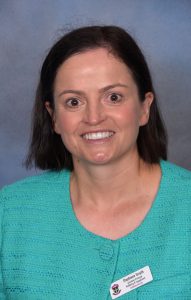 Stephanie feels privileged that she has been blessed with the opportunity to continue to build upon the work of those who have gone before her and is committed to ensuring that the Catholic ethos and Brigidine Charism are promoted and celebrated in the life of the Kilbreda College community.
Throughout all the dimensions of her professional life, Stephanie's enduring passion has been the wellbeing of young people. Her experience in working with students from a variety of backgrounds, across many year levels she has found to be challenging and inspiring. It has enabled her to become highly attuned to their learning and wellbeing needs. Stephanie's compass for wellbeing and engagement is centered upon ensuring that each student has personalised opportunities to access a comprehensive, relevant and meaningful Pastoral care program and is known, cared for and valued.
Stephanie acknowledges the important role that teachers play in modelling to their students the importance of being lifelong learners in all aspects of life. She is excited to have the opportunity to work alongside quality teachers to ensure that the students of Kilbreda are well equipped to contribute to the world in which they live through their actions and decisions.