Nicole has been an educator in Victorian Catholic secondary schools for over twenty-five years. She is deeply committed to the holistic education that is at the heart of Catholic schools and to leading a learning focused, faith-based community.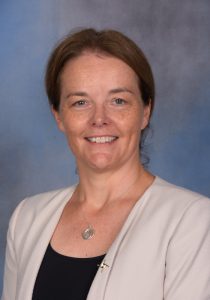 Nicole believes that learning opportunities must not only prepare students for academic success, but also contribute to the development of the whole person, allowing students to grow in their faith, develop a strong sense of self, a genuine love of learning and encourage them to become discerning young adults with a strong commitment to social and environmental justice.
In 2019, Nicole was appointed the sole Principal of Kilbreda College, where she had formerly held the role of Co-Principal since 2016. Prior to Kilbreda, Nicole held the role of Deputy Principal – Learning and Teaching at Siena College, Camberwell for seven years. During this time, she was a member of the Executive Committee of the Victorian Catholic Secondary Schools Deputy Principals' Association (VCSSDPA) and held the position of both Secretary and President.
Nicole is an active member of the teaching profession and passionate about improving educational standards and developing strong cultures of learning. Her commitment to leading a high performing, learning focussed school has been further enhanced through her completion of the International Leadership and Management Program (ILMP) Senior Leaders Program.
As a woman of faith, Nicole models Gospel values of respect, integrity, forgiveness and justice in her interactions with others. She lives out her faith and commitment to supporting the most vulnerable members of our community through her regular volunteer work with Vinnies. Nicole is also a passionate advocate for the environment and for sustainability, having commenced her teaching career as a Biology, Science and Health Education teacher.