Parent Seminar – Supporting the Wellbeing of our Young People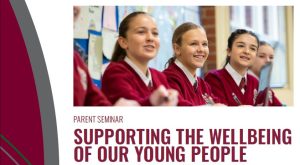 In the face of recent events including the Covid pandemic and repeated lockdowns, our young people's wellbeing has taken a toll. During this hour-long presentation (plus time for questions), experienced educator and author Sharon Witt, will share the latest data on the state of youth wellbeing and offer practical tips and strategies for parents, educators and carers to promote and bolster their resilience.
This Presentation Will Cover
The most recent research around what is most impacting the wellbeing of our young people
Ten ways you can support the wellbeing of your young person
How to support the wellbeing of parents and carers

Hosted by Sharon Witt
Sharon Witt is a seasoned educator with over 30 years' experience, and is sought-after expert in the fields of youth, parenting and education. She has contributed to numerous publications and is regularly sought after in the media, appearing in print, television, and radio.
Sharon is a best-selling author of 18 books, including the hugely popular Girlwise and Wiseguys series, Teen Talk, and Starting Secondary School (co-written with Dr Michael Carr-Gregg). Her books aim to provide guidance and support to young people on the challenges they face in their early and teen years.